OFFICE OF WORKPLACE RELATIONS
UNITED STATES COURTS FOR THE THIRD CIRCUIT
The Federal Judiciary is committed to a workplace of respect, civility, fairness, tolerance, and dignity, free of discrimination and harassment. These values are essential to the Judiciary, which holds its Judges and Employees to the highest standards.
Pursuant to this commitment, the United States Courts for the Third Circuit has established an Office of Workplace Relations. The Office of Workplace Relations is led by Director of Workplace Relations Julie Procopiow Todd, Esq., who joined the Third Circuit on October 14, 2019. The Circuit Director of Workplace Relations provides confidential and impartial assistance to judges and judiciary employees on workplace conduct matters; serves as the primary expert on resolving internal employment disputes and related workplace conduct issues throughout the Third Circuit; coordinates implementation of employment dispute resolution ("EDR") policies for all courts within the Third Circuit, including  the Court of Appeals, and the Federal district and bankruptcy courts in the Districts of Delaware, New Jersey, Pennsylvania, and the United States Virgin Islands; and provides training aimed at fostering healthy working environments and the fair resolution of workplace conduct matters.
YOUR EMPLOYEE RIGHTS AND HOW TO 
REPORT WRONGFUL CONDUCT
If you feel that you have been subjected to discrimination, sexual, racial, or other discriminatory harassment, abusive conduct, or retaliation in the workplace, you have rights. Early action is the best way to maintain a safe work environment.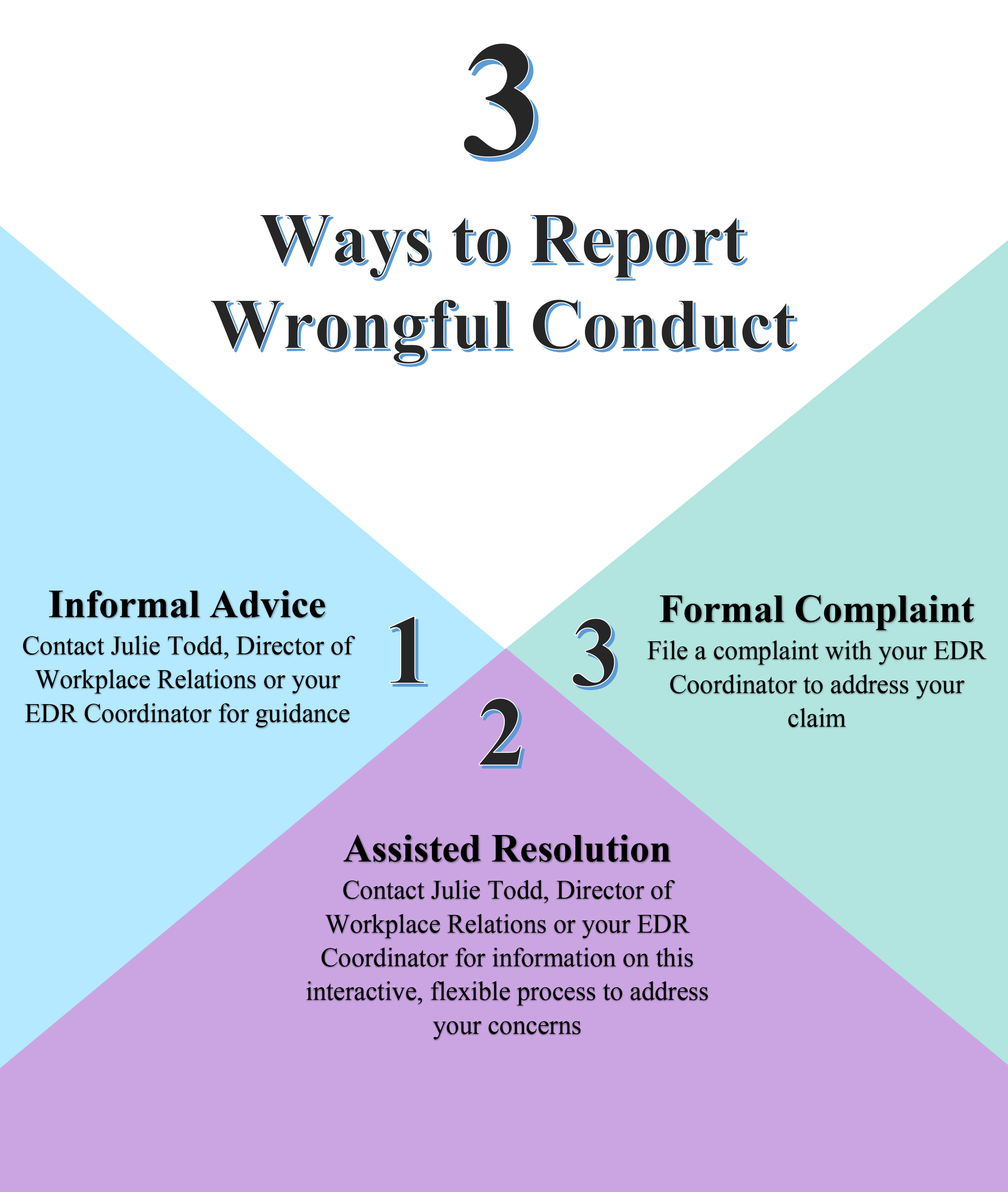 For more information, contact Julie Todd, Third Circuit Director of Workplace Relations or see the Third Circuit Employment Dispute Resolution Plan.
Workplace Relations
Circuit Director of Workplace Relations:
Julie Procopiow Todd, Esq.
Address:
Office of the Circuit Executive
Third Circuit
22409 U.S. Courthouse
601 Market Street
Philadelphia, PA  19106
Telephone number:
(267) 299-4215
Email: 
julie_todd@ca3.uscourts.gov
National Office of Judicial Integrity
Michael Henry, Judicial Integrity Officer
Administrative Office of the U.S. Courts
Office of Judicial Integrity
202-502-1603
AO_OJI@ao.uscourts.gov
 
Third Circuit Court of Appeals (COA) EDR Coordinator
Jeanne Donnelly, Office of the Circuit Executive
215-597-0718 
Third Circuit Court of Appeals Alternate EDR Coordinator
Kelly McGrady Cosgrove, Office of the Clerk of Court
215-597-2995